Merry Christmas Blogger World! We are currently SNOWED IN!...I mean literally, when I opened my door I pushed snow! It is so beautiful and peaceful out there.
I wanted to share with you all the wonderful homemade, handmade, reused or locally purchased gifts from this Christmas. I am so going to take the advice of another blogger and get started now on next years gifts!
Homemade


We started with making homemade gingerbread houses with our friends the Codiani's





I invited some wonderful ladies over to make homemade soaps! I wrapped them in tissue paper with a strip of snowman tissue paper and tied it with raffia and a tag. I gave these to EVERYONE for Christmas!

I made a baby doll for my niece. This by far is the most difficult gift I have ever made. My friends Jannelle and Katelyn also joined me in the doll making, which made it extra fun! We got the pattern and directions HERE.
I will post the doll making experience another time.



Handmade by others
my father in law made this copper candle holder for everyone this Christmas! He made them to fit my soy candles. He even made it so the tops can be changed to different designs, like a star or a heart. These will be for sale at my website soon!


I purchased these felt food from kiddcheleen. I picked out their favorite foods including my husbands.




I got these folk wooden toys from McCoyToys They made great stocking stuffers for the boys..."made at a workshop" Santa's?
There is a Jacob's ladder, a yo yo and a humming spinning wheel.



James found this lacing elephant in his stocking!
It was purchased from TnTWoods.




These adorable crayon rolls were also in the boys stockings, they hold 16 crayons to take on the go!
They were purchased from pinkynme.



I got my mom a new makeup bag for Christmas..she was using a Ziploc baggie!
I got this custom bag from JuJuBaju She put her name on it too!


Locally Purchased



(these are not the cookies I ordered but I LOVE this on!)
I ordered a try of cookies for my families Christmas party from a
local bakery that happen to be friends too! The cookies we so yummy and they delivered them to my aunts house for me! Here is a link to their Esty site...oblada Bakery


Purchases from the local feed store...venturagrain



Warren got me these Muck Boots from our local feed store! They are very warm and easy to clean. He had a tough time deciding on them, because they are made in China...but he purchased them from a local store, helping to give them business...in the end he purchased them and I love them!



Warren also got me socks from the feed store




The boys bought their Nanny a bird feeder from the feed store too. This one is similar, but the one they got suctions to the window!

We also bought a Kong dog toy for Starla and an Adubon Bird -Cardinal for my mom from the boys.



The Candy!!!

We buy our candy from a local candy shop for Christmas!
Hilliardscandy

All stocking candy was bought here, I wont tell you how much we spent...we have a chocoholic problem in this house!

The Village Toy Shop!
village toy shopee

I have not been into a Toys R Us in years! I found this little toy store in Easton, MA and have given them my business ever since. It is not huge, loud or filled with a warehouse of toys and lights. It IS comfortable and quiet! They have all kinds of thoughtful , educational toys as well as wooden or organic toys too! Yes the prices are higher than the big box stores, because they have to make money too and they are not selling a warehouse worth of toys to the masses, but I know this and I have made the conscience effort to support small local businesses even if it means spending a little more on high quality not junky plastic toys.

Some things we bought here are



Wooden pantry food



Automoblox minis



Bananagram game



I got something similar to this, but it was magnetic which I like better than the sticky, cause it can be used over and over by different children.


Finally...toys bought from a church fair.



This animal hospital was $3.99! It is so cute, it has keys to open the doors that the little plush animals go into!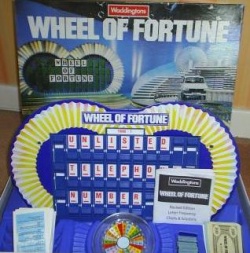 Mason bought this for his Papa at the fair for $1.00...they watch the Wheel together on Friday nights!




I also found a huge recycling truck at a store called Savers. They take donations and resell them for very little money, then they donate to a local charity!
The recycling truck was at BJ's last year for $39.99! I got it for $6.99! and its being reused!


This bassinet the bay is in was also a Saver find for $2.99




I also found Mellisa & Doug magnetic dress-us dolls for $2.99

Plus a few other wooden toys that are so cute!

I really enjoyed tring to find or make gifts for my friends and family that were EarthFriendly!